Using the app couldn't be simpler: go to Settings -> Active Consent.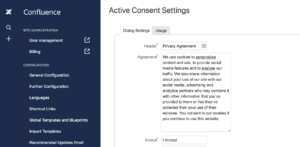 Then define the:
Title for the consent pop-up
Text of the consent pop-up.
Label for the "I Accept" button
Label for the "I Do Not Accept" button
If the dialog is enabled
If users should be forced to logout if they don't accept the agreement.
That's it. Users will start seeing the dialog on the dashboard or any content pages until they accept.